I have a winner for my giveaway!
The name randomly pulled from a hat is Shellagh over at Ticking And Toile!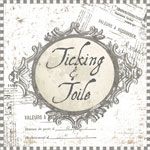 Stop by to say Hello!
Her blog features tutorials for upholstery, slipcovers and a love for chippy worn farmhouse style lovelies. See her link above :0)
Here's Shellagh ~
"I'm Shellagh...I'm the mom of 6 beautiful daughters and the wife of the absolute best husband! I love to decorate, garden, and create. Things I love....soft linen, cracked plaster, painted wood, travertine, sisal, rustic old floors, boxwood hedges, fabulous smelling roses, and faded fabrics.....and of course, vintage chandeliers!"
She is fabulous and its a must to stop by and visit her blog!
Congratulations Shellagh!
Hope you enjoy your new PINK tool kit!